BMI is proactive
when it comes to health, safety and on-the-job security:
All our staff receive specific training in maintaining a safe and healthy workplace; and
All buildings employing over five BMI workers have a designated health and safety representative.
BMI is fully compliant
with all health and safety compliance systems, including:
the Workplace Hazardous Material Information System (WHMIS); and
the Occupational Health & Safety program.
Depending on their job description and the worksite, many BMI employees also receive a comprehensive Environmental Health & Safety Manual and safety instruction related to:
Ladders
Hazardous materials
Electrical safety
Lifting techniques
Safe use of pesticides
Asbestos awareness
Defensive driving
Hearing conservation
Emergency response planning
Lockout/Tagout
Machine guarding
Hazard communication
BMI's commitment to on-the-job safety was recognized by a Safety Award from the Building Service Contractors Association International (BSCAI).
As part of their orientation, BMI staff receive comprehensive Health & Safety Training, including
Safety Policies & Rules
Safety Meetings
Safety Participation
Injury & Incident Reporting
Inspections
Communication
Disciplinary Policy
First Aid Procedure & Reporting
Working Alone
Violence & Harassment
Hazard Assessment & Review
Cardiopulmonary Recitation (CPR)
Housekeeping
Drug & Alcohol Policy
Fire Protection, Safety
Toxic & Hazardous Substances
Bio-Hazardous Substances
Waste Minimization & Waste Handling
Right to Refuse Unsafe Work
Emergency Equipment & Procedures
Personal Protection Equipment (PPE)
Safety Intervention (authority to stop unsafe work)
'Toolbox' Pre-Job Meetings
WHMIS Training
BMI employees receive Occupational Health & Safety Training:
Worksites include Material Safety Data Sheets (MSDS) and WHMIS posters to ensure the utmost safety for both employees and clients.
BMI has a dedicated Safety Manager who investigates all incidents and is responsible for our Return-to-Work program.
BMI has in place effective safety, emergency preparation and response procedures, which are communicated to staff through training sessions and/or on-site Emergency Preparedness & Response manuals.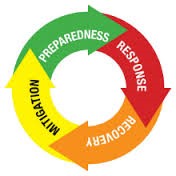 BMI employees receive Emergency Prepardeness Training:
BMI worksites include our recently updated Emergency Preparedness Policies & Procedures Manual.
The Manual covers training for fire and medical emergencies, and other events including extended power loss, chemical spill, structure climbing/descending incident, bomb threat, severe weather, or natural disasters such as a blizzard or earthquake.