Commercial Cleaning
We customize our janitorial and commercial cleaning services to meet the needs of property management firms, facility managers, and building owners in commercial, institutional and industrial markets.
There's a great deal of buzz these days about green cleaning, and we haven't just listened, we've led the charge in our industry. In 2010, we developed BMI's One Step To Go Green, our customizable, green cleaning program, and since then we have been assisting our customers meet their environmental goals.
BMI understands your need to reduce the environmental footprints. By maintaining eco-friendly standards in the day-to-day management of your commercial buildings, we help you to attain your sustainability goals. BMI works hand-in-hand with you on assisting to adopt green cleaning as a practice. BMI empowers you to create healthy buildings and communities through environmental education, products and services. To achieve this, BMI offers you well-trained staff, and efficient management tools. Ready to green clean your workplace, we can help.
Start today with these simple green cleaning practices
Depending on your need, BMI stands ready to implement proven cleaning green methods at your facility. Where to start? Our One Step To Go Green Program begins with basic green cleaning options, such as switching to Eco Logo certified cleaning products and implementing recycling programs. If you are up to the challenge and go further, touchless water conservation equipment or more energy-efficient HVAC systems can be installed.
Whatever path you choose, there are simple steps you can take to decrease pollutants and improve the indoor air quality (IAQ) of your facility. Did you know that indoor air contains up to five times more airborne pollutants than outdoor air and contributes to health problems and productivity declines that are measured in significant dollars.  Green cleaning pays off – the US Department of Energy reports that improvements to IAQ can bolster worker productivity by as much as 6 percent.
One Step to Go Green Cleaning Program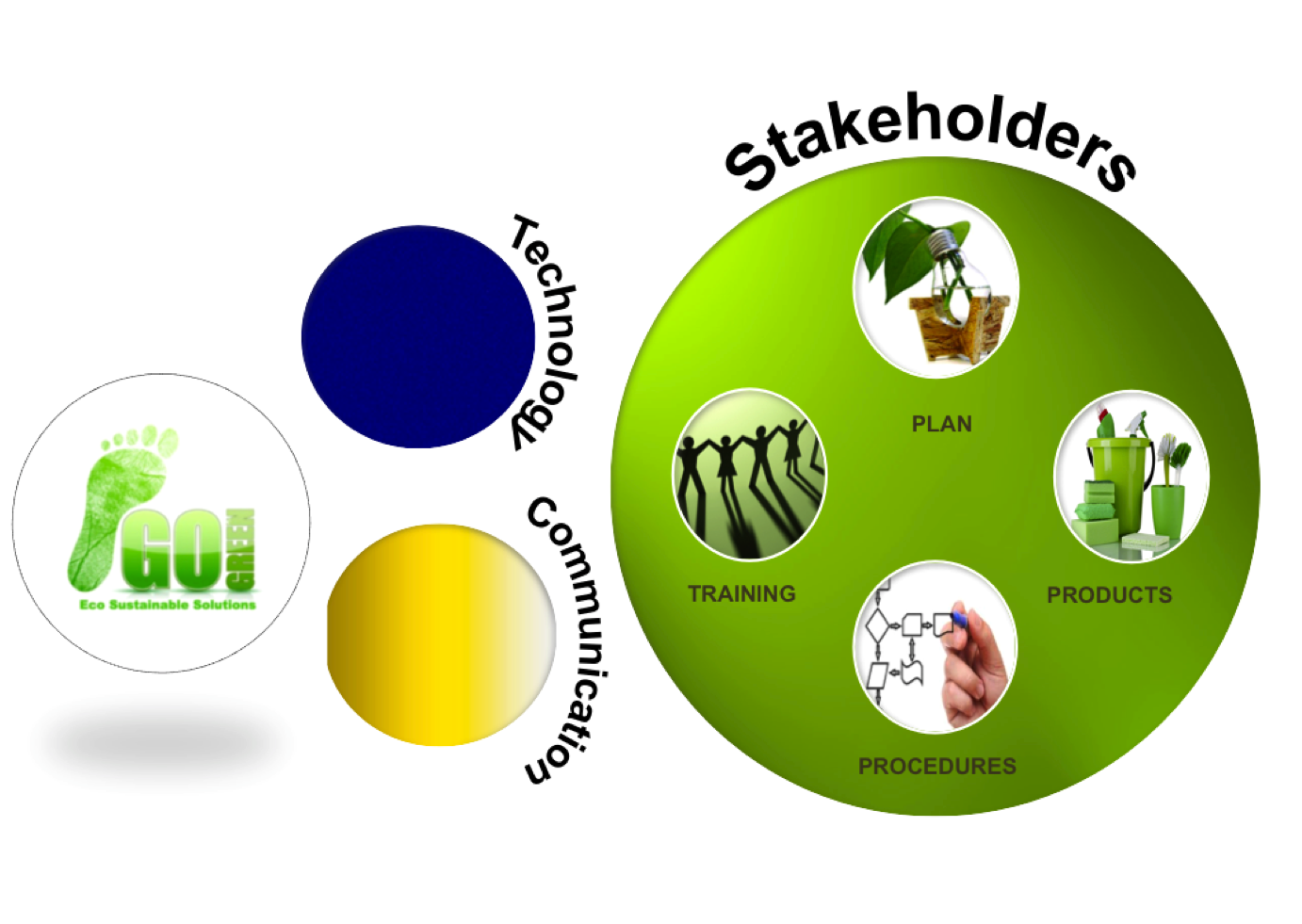 At BMI, we have developed a framework to ensure effective operations and continuous improvement. This framework sets forth the policies, processes; procedures that guide and support our cleaning staff to focus on key areas that can assist you in earning, maintaining or expanding your LEED Certification Level (LEED- EBOM IEQ 3.1 Green Cleaning – High – Performance Cleaning Program).
For our clients working towards Leadership in Energy and Environmental Design: Existing Building Operating Maintenance (LEED-EBOM) certification, your One Step to Go Green cleaning program will include a tailored green cleaning policy that addresses cleaning products, floor care products, carpet care products, cleaning equipment, operating procedures, hand hygiene, safe handling of chemicals, staff training, and occupant feedback – components required to earn points towards certification.
In addition, we can create your green communication program so that building occupants understand they are part of the process and provide you tracking reports to document your green spending for LEED certification, environmental goals, etc.
Environmental Cleaning Service Delivery Approach
BMI's approach to cleaning has been designed to use safer, less toxic products while achieving a cleaner and healthier environment. Our approach enables us to create a win-win relationship with our clients. If we help our clients to maintain or increase their LEED Certification Level, we also earns a reputation as the company moving society into a "greener" future which positions us as leaders in the green cleaning business in the National Capital Region.
The BMI green cleaning process ensures the success of your program.
Basic principles of One Step to Go Green Program include:
Use green cleaning processes such as spraying cleaning products directly onto cloths, using microfiber mops, and using cold water.
Clean daily on-site services, occasional carpet washing, and floors waxing.
Use chemical management systems for accurate product dilution in order to improve indoor quality
Ensure proper vacuuming, extraction, rinsing, drying and emptying vacuum bags at the end of shifts.
Establish preventative and corrective measures to improve cleaning operations
Pay particular attention to door handles, bright work and other areas where people come in contact with the facility or its fixtures.
Apply disinfectant ensuring that this one has positive dwell time to remove dirt/germens using fewer products.
Use less hazardous chemicals and storage them by using a nomenclature based on color-coded to promote safety and avoid cross-contamination.
Use of Environmental Products and Materials
BMI environmental cleaning practices avoid any chemicals that are skin irritants, toxic or harmful to the environment. BMI's staff has been educated about LEED standards, and the company supervisors are familiarized with the LEED process, especially when it comes to products and materials. Most products we use maintain a reduced environmental impact, including those with Green Seal® or EcoLogo® certification. We also use "Green" paper products to comply with EPA's Comprehensive Procurement Guidelines and Green Seal's Standards for Tissue (GS-1) and Towels (GS-9).
Use of Sustainable Janitorial Equipment
Our company maintains a plan for the use of powered janitorial equipment that maximizes the effective reduction of building contaminants with minimum environmental impact. Our cleaning equipment carries the Carpet and Rug Institute's (CRI) Green Label® or is approved by the US Green Building Council. We keep our equipment well maintained for efficiency and decreased impact on occupant health.
At BMI, all new powered cleaning equipment purchased and used at the facility complies with The CRI Seal of Approval (This signifies a superior cleaning vacuum that has passed stringent testing for soil removal, dust containment and carpet appearance retention). At least 60% of the existing cleaning equipment meets CRI's requirements as indicated below:
Powered floor maintenance equipment including electric and battery powered floor buffers and burnishers are equipped with vacuums, guards and/or other devices for capturing fine particulates and operate at a sound level of less than 70dba.
Automated scrubbing machines are equipped with variable speed feed pumps and on board chemical metering to optimize use of cleaning fluids.
Battery powered equipment is equipped with environmentally preferable gel batteries
Powered equipment is ergonomically designed to minimize vibration, noise and user fatigue.
Equipment is designed with safeguard such as rollers or rubber bumpers to reduce potential damage to building surfaces.
Hot water Extractors equipment for deep cleaning carpets are capable of removing sufficient moisture such that carpets can dry in less than 24 hours.
Active micro fiber technology.
Equipment log of purchase and repairs.
Green Maintenance Services That Go Beyond Green Cleaning…. Just Ask Us!
Having maintained over 250 facilities within the National Capital Region, BMI brings a wealth of experience in integrating sustainable 'green' building operations into the corporate footprint. We educate you on how to integrate low cost, green practices into your daily operations and, how to tie green initiatives to the company's brand to improve perception.
Find out how BMI's green cleaning program can help your business.
What is Green Cleaning?
Green cleaning means the use of those products and services that have a lesser or reduced impact on human health and the environment when compared with competing products or services that serve the same purpose.
Did You Know That…
The cleaning industry consumes six billion pounds of chemicals, including non-renewable natural resources such as petroleum, and generates 4.5 billion pounds of paper products requiring the cutting of 35 million trees annually.
A Booming Market:
The global environmental and facilities services market growth is expected to accelerate to reach a yearly rate of  2% between 2010 and 2015 to exceed $246 billion.
Health Concerns:
Beyond acute injury, traditional cleaning products have also been linked to cancer, major organ damage, reproductive disorders, hormone disrupters, asthma, headaches, dizziness and fatigue.
Interested in learning about Green Cleaning! – Download the 2013 Green Cleaning Facts and Trends Infographic